Jack Chapman
Welcome to the web pages about and by Jack Chapman
Even today some have an image of Durham as an area of grimy coalfields inhabited by hardened drinkers in flat caps with a passion for pigeons, whippets and football. The reputation had truth in days gone by and came at a harsh price measured in human hardship and tragic loss of life. Little applies now but this thoroughly researched narrative is mindful of those social developments as it traces the game's roots from days when Durham was a cricket backwater through 250 years to the formation of a Premier League and its maturing position in the game today.
Players range from the duffer who apologised for having just one pad on the 'wrong' leg because he thought the bowling was from the other end to local lads Colin Milburn and Paul Collingwood who 'made it' for England. From Albert Elsdon, who had a boyish dream to play for ever, to exciting overseas professionals like Clayton Lambert, Lance Cairns, Wasim Raja, Richie Richardson and Steve Russell.
Jack's time as a player and administrator in Tyneside Senior League and his close involvement with North East Premier League provide a privileged position from which to view the development of league cricket in North East England. In his playing career as a batsman, his clubs included Hebburn Leslies, Blaydon and Shotley Bridge.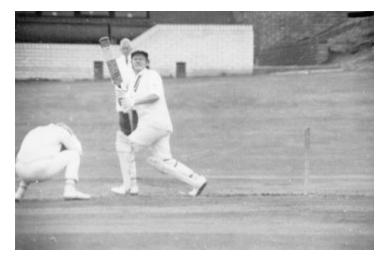 Jack in his playing career batting for Blaydon Cricket Club at Deanfield.
His involvement was later honoured when made a Life Member of Blaydon Cricket Club, Northumberland and Tyneside Senior League and Durham County Cricket Club. Jack has also written three books on local club cricket.
History written by Jack Chapman